Yesterday, brought you the blahfore and aaaah!fter of my wine crate shelves.
Blahfore:
Aaah!fter:
They still remain free of tchotski, but I'm super happy with how they turned out.  Here's how to make wine crate shelves!
Gather ye wine crates from ye wine manager friends.
Darken the edges (or any part you want to have a patina'd effect) with stain.  We used the ebony color from Minwax.
Next, liberally rub the parts you really want to stick out from the paint with wax.  We used an old tealight that I popped from its tin encasement.
(Not dandruff.  It's wax.)
Next, paint.  We used a semi-gloss white.  I love how the burnished wine logos look with a think coat of white over them!
Bake said boxes in the sun for a day.  So the paint dries fully.
Once the paint is dry, lightly sand the spots you waxed.
It's got a nice pretty distressing on it now!
We used 15 lb. wall anchors to attach our boxes to the wall.  Probably not really necessary, but we live in an earthquake zone, so we wanted to make sure nothing would fall off the wall should the ground beneath our feet begin moving.
(I hate it when it does that.  Every so often when we get a good tremor, David and I look at each other in our pajama'd state, and say out loud, "Damn, I wish I was wearing pants.")
I'm a jerk and didn't want a straightforward arrangement for the boxes.  I'll bet David really just wanted them stacked on top of one another, but I had this idea of using negative space also as a shelf, so I wanted to ensure they were stacked all akimbo.
Et voila!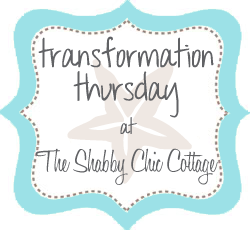 Also linked to Wow Me Wednesday
Related posts: